notAmos Performing Editions
1 Lansdown Place East, Bath
BA1 5ET, UK
+44 (0) 1225 316145
Email

Performing editions of pre‑classical music
with full preview/playback and instant download
Clément Janequin

(c.1485 - 1558)


Il estoit une fillette

(S.A.T.B. + reduction)
Full score (PDF), €0.00 for unlimited copies Download this item
Printable cover page (PDF), €0.00 for unlimited copies Download this item

Please click here to report any problem obtaining a PDF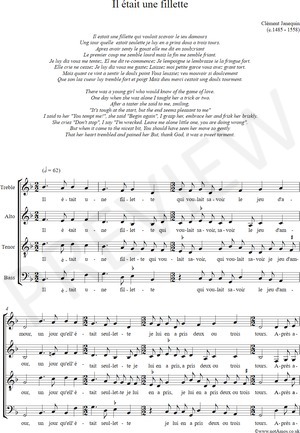 Page 1 of 6
Marriage of the original words with Attaignant's dance book arrangement of the tune.
Lyrics: Anon

Il estoit une fillette
Qui vouloit scavoir le jeu d'amours,
Ung jour qu'elle estoit seullette
Je luy en aprins deux ou trois tours,
Apres avoir senty le goust
Elle me dit en soubzriant
"Le premier coup me semble lour
Mais la fin me semble friant".
Je luy dis "vous me tentez",
El me dit "recommencez".
Je l'empoingne,
Je la fringue fort.
Elle crie "ne cessez",
Je luy dis "vous me gastez.
Laissez moy, petite garse,
vous avez grant tort.
Mais quant ce vint a sentir le doulx point,
Vous l'eussiez veu mouvoir si doulcement
Que son las cueur luy tremble fort et poingt.
Mais, Dieu mercy, c'estoit ung doulx tourment.

There was a young girl
who would know of the game of love.
One day when she was alone
I taught her a trick or two.
After a taster
she said to me, smiling,
"It's tough at the start,
but the end seems pleasant to me".
I said to her "You tempt me!",
she said "Begin again",
I grasp her,
embrace her
and frisk her briskly.
She cries "Don't stop",
I say "I'm wrecked.
Leave me alone little one,
you are doing wrong".
But when it came to the point,
you should have seen her move so gently
that her heart trembled and pained her
but, thank God, it was a sweet torment.