notAmos Performing Editions
1 Lansdown Place East, Bath
BA1 5ET, UK
+44 (0) 1225 316145
Email

Performing editions of pre‑classical music
with full preview/playback and instant download
From Dering's Cantica Sacra, Antwerp, 1618. The composer provided a continuo part, following the bass (or lowest sounding voice). This has been omitted in favour of the reduction (for rehearsal purposes).
Lyrics: Anon

Factum est silentium in caelo,
Dum committeret bellum draco
Cum Michaele Archangelo.
Audita est vox milia milium dicentium:
Salus honor et virtus omnipotenti Deo.
Alleluia.

Silence befell heaven,
Whilst a dragon battled
With archangel Michael.
The voice of thousand upon thousand was heard, saying:
Safety, honour and goodness to Almighty God.
Alleluia.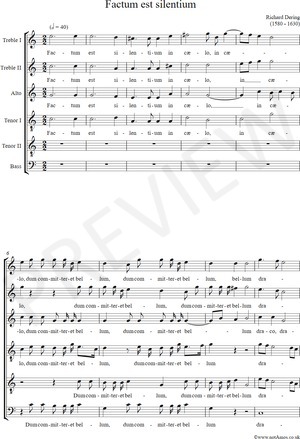 Page 1 of 8
Richard Dering
(c.1580 - 1630)


Factum est silentium


(S.S.A.T.T.B. + reduction)

Preview and playback are available to the left or above


Full score (PDF), €1.00 for a single copy Buy this item
Choir offer (PDF), €10.50 for 18 copies Buy this item
Printable cover page (PDF), €0.00 for unlimited copies Download this item

Please click here to report any problem obtaining a PDF