notAmos Performing Editions
1 Lansdown Place East, Bath
BA1 5ET, UK
+44 (0) 1225 316145
Email

Performing editions of pre‑classical music
with full preview/playback and instant download
From Dering's Cantica Sacra, Antwerp, 1618. The composer provided a continuo part, following the bass (or lowest sounding voice). This has been omitted in favour of the reduction (for rehearsal purposes).
Lyrics: Anon

Ardens est cor meum;
Desidero videre Dominum meum.
Quaero et non invenio ubi posuisti eum
Si tu sustulisti eum, dicito mihi,
Et ego eum tollam.

My heart is burning, I long to see my Lord.
I seek, yet cannot find where they have lain him.
If you have raised him up, tell me so,
And I shall bear him.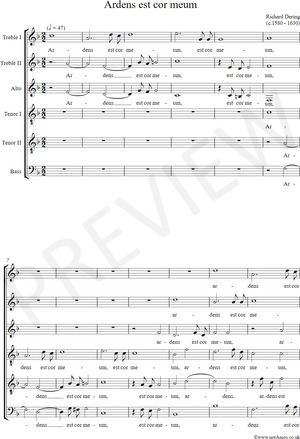 Page 1 of 7
Richard Dering
(c.1580 - 1630)


Ardens est cor meum


(S.S.A.T.T.B. + reduction)

Preview and playback are available to the left or above


Full score (PDF), €1.00 for a single copy Buy this item
Choir offer (PDF), €10.50 for 18 copies Buy this item
Printable cover page (PDF), €0.00 for unlimited copies Download this item

Please click here to report any problem obtaining a PDF