notAmos Performing Editions
1 Lansdown Place East, Bath
BA1 5ET, UK
+44 (0) 1225 316145
Email

Performing editions of pre‑classical music
with full preview/playback and instant download
William Child

(1606 - 1697)


Sing we merrily unto God

(S.S.A.A.T.B.B. + reduction)
Full score (PDF), €1.50 for a single copy Buy this item
Choir offer (PDF), €18.50 for 21 copies Buy this item
Printable cover page (PDF), €0.00 for unlimited copies Download this item

Please click here to report any problem obtaining a PDF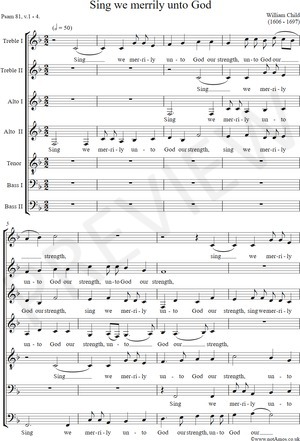 Page 1 of 28
William Child was sometime organist at the Chapel Royal.
Lyrics: Psalm 81, v.1-4

Sing we merrily unto God our strength: make a cheerful noise unto the God of Jacob.
Take the psalm, bring hither the tabret: the merry, merry harp with the lute.
Blow up the trumpet in the new moon: even in the time appointed, and upon our solemn feast day .
For this was made a statute for Israel, and a law of the God of Jacob.
Hallelujah.