notAmos Performing Editions
1 Lansdown Place East, Bath
BA1 5ET, UK
+44 (0) 1225 316145
Email

Performing editions of pre‑classical music
with full preview/playback and instant download
From Sacrae Cantiones, Nuremberg, 1585, a collection of Italian motets edited by Frederic Lindner.
Lyrics: Latin Antiphon

Hodie beata Virgo Maria puerum Jesum praesentavit in templo, et Simeon, repletus Spiritu Sancto, accepit eum in ulnas suas, et benedixit eum in aeternum.

Today the Blessed Virgin Mary presented the child Jesus in the temple, and Simeon, filled with the Holy Spirit, took Him in his arms, and blessed Him for ever.
Page 1 of 5
Claudio Merulo
(1533 - 1604)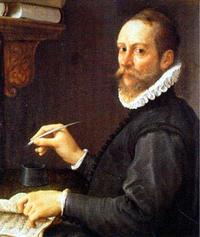 Hodie beata Virgo Maria


(S.A.T.T.B. + reduction)

Preview and playback are available to the left or above


Full score (PDF), €0.00 for unlimited copies Download this item
Printable cover page (PDF), €0.00 for unlimited copies Download this item

Please click here to report any problem obtaining a PDF