notAmos Performing Editions
1 Lansdown Place East, Bath
BA1 5ET, UK
+44 (0) 1225 316145
Email

Performing editions of pre‑classical music
with full preview/playback and instant download
Marian motet (for the First Sunday in Advent) from Promptuarii musici (vol. 3), 1613.
Lyrics: Latin Antiphon

Spiritus Sanctus in te descendet, Maria:
ne timeas, habebis in utero filium Dei.
Alleluia.

The Holy Ghost shall descend upon thee, O Mary:
Fear not, thou shalt bear in thy womb the son of God.
Alleluia.
Page 1 of 6
Claudio Merulo
(1533 - 1604)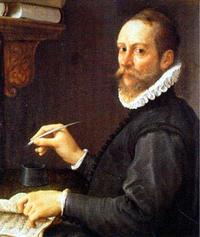 Spiritus Sanctus in te


(S.A.A.T.T.B.B.)

Preview and playback are available to the left or above


Full score (PDF), €0.00 for unlimited copies Download this item
Printable cover page (PDF), €0.00 for unlimited copies Download this item

Please click here to report any problem obtaining a PDF