notAmos Performing Editions
1 Lansdown Place East, Bath
BA1 5ET, UK
+44 (0) 1225 316145
Email

Performing editions of pre‑classical music
with full preview/playback and instant download
Richardson was organist at Winchester Cathedral, 1693-1729. This piece is typical of his simple style.
Lyrics: Psalm 55, v.1,2,4,6

Hear my prayer, O God: and hide not thyself from my petition.
Take heed unto me, and hear me: how I mourn in my prayer, and am vexed.
My heart is disquieted within me: and the fear of death is fallen upon me.
Then I said, O that I had wings like a dove: then would I flee away, and be at rest.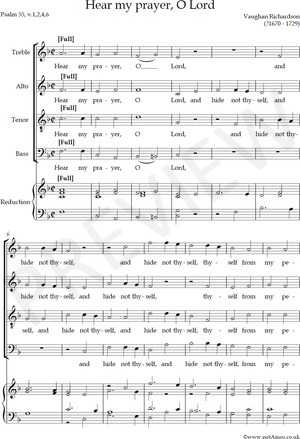 Page 1 of 6
Vaughan Richardson
(?1670 - 1729)


Hear my prayer, O Lord


(S.A.T.B. + reduction)

Preview and playback are available to the left or above


Full score (PDF), €0.40 for a single copy Buy this item
Choir offer (PDF), €2.50 for 12 copies Buy this item
Printable cover page (PDF), €0.00 for unlimited copies Download this item

Please click here to report any problem obtaining a PDF