notAmos Performing Editions
1 Lansdown Place East, Bath
BA1 5ET, UK
+44 (0) 1225 316145
Email

Performing editions of pre‑classical music
with full preview/playback and instant download
A setting from the Matins for the Dead from Merulo's Primo Libro de Mottetti, 1583.
Lyrics: Anon

Peccantem me quotidie
et non penitentem,
Timor mortis conturbat me.
Quia in inferno nulla est redemptio.
Miserere mei, Deus, et salva me.

Every day I sin
and am impenitent.
The fear of death troubles me:
For in hell there is no redemption.
Have mercy upon me, O God, and save me.
Page 1 of 7
Claudio Merulo
(1533 - 1604)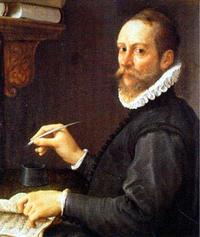 Peccantem me quotidie


(A.A.T.T.T.B.)

Preview and playback are available to the left or above


Full score (PDF), €0.00 for unlimited copies Download this item
Printable cover page (PDF), €0.00 for unlimited copies Download this item

Please click here to report any problem obtaining a PDF