notAmos Performing Editions
1 Lansdown Place East, Bath
BA1 5ET, UK
+44 (0) 1225 316145
Email

Performing editions of pre‑classical music
with full preview/playback and instant download
Motet for Good Friday from Sacrorum symphoniarum continuatio, Nuremberg, 1600. This edition is offered at the published pitch (high chiavette) for S.S.S.A.T.T.T. or transposed down a fourth for A.A.A.T.T.T.B.
Lyrics: Latin Antiphon

Adoramus te Christe, et benedicimus tibi:
quia per tuam sanctam crucem et passionem redemisti mundum.
Miserere nobis.

We adore thee, O Christ, and we bless thee:
since by thy holy cross and thy passion thou hast redeemed the world.
Have mercy upon us.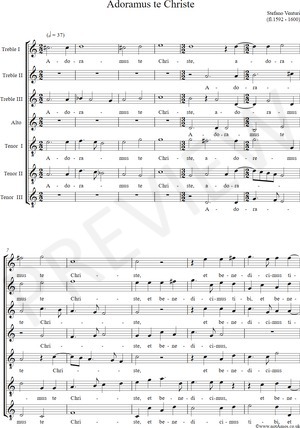 Page 1 of 4
Stefano Venturi
(fl.1592 - 1600)


Adoramus te Christe


(S.S.S.A.T.T.T. (or A.A.A.T.T.T.B.))

Preview and playback are available to the left or above


Full score (PDF), €0.00 for unlimited copies Download this item
Transposed score (PDF), €0.00 for unlimited copies Download this item
Printable cover page (PDF), €0.00 for unlimited copies Download this item

Please click here to report any problem obtaining a PDF