notAmos Performing Editions
1 Lansdown Place East, Bath
BA1 5ET, UK
+44 (0) 1225 316145
Email

Performing editions of pre‑classical music
with full preview/playback and instant download
For use in the second week in Advent. From Sententiae Insigniores, Dresden, 1584.
Lyrics: Matthew, ch.23, v.33,34

Amen dico vobis, non praeteribit aetas haec antequam omnia facta fuerint.
Coelum et terra transibunt verba autem mea non transibunt.

Verily I say unto you, this generation shall not pass away, till all be fulfilled.
Heaven and earth shall pass away: but my words shall not pass away.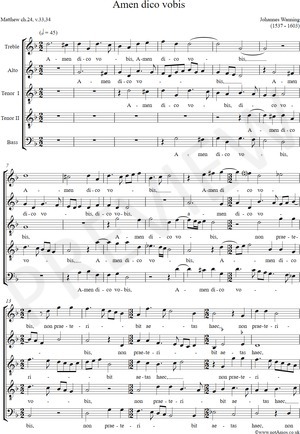 Page 1 of 7
Johannes Wanning
(1537 - 1603)


Amen dico vobis


(S.A.T.T.B.)

Preview and playback are available to the left or above


Full score (PDF), €0.00 for unlimited copies Download this item
Printable cover page (PDF), €0.00 for unlimited copies Download this item

Please click here to report any problem obtaining a PDF