notAmos Performing Editions
1 Lansdown Place East, Bath
BA1 5ET, UK
+44 (0) 1225 316145
Email

Performing editions of pre‑classical music
with full preview/playback and instant download

Andreas Hakenberger

(c.1574 - 1627)


Beatus qui intelligit

(S.S.A.A.T.T.T.B.B.)
Full score (PDF), €0.00 for unlimited copies Download this item
Printable cover page (PDF), €0.00 for unlimited copies Download this item

Please click here to report any problem obtaining a PDF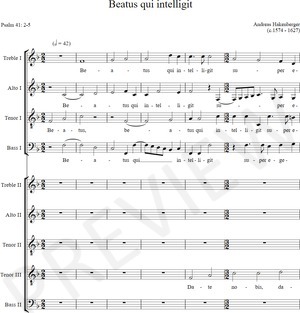 Page 1 of 15
This work, Hakenberger : Beatus qui intelligit : scoreid 148112
, as published by
notAmos Performing Editions
, is licensed under a
Creative Commons Attribution-ShareAlike 4.0 International License
. All relevant attributions should state its URL as
https://www.notamos.co.uk/detail.php?scoreid=148112
. Permissions beyond the scope of this licence may be available at
https://www.notamos.co.uk/index.php?sheet=about
.
From Harmonia Sacra, Frankfurt, 1617. In this motet Hakenberger combines two texts of prayer for the poor: a passage from Psalm 40 (Vulgate) set for double choir, together with a complementary text from a different source as the cantus firmus in the tenor. Justification by works, red in tooth and claw.
Lyrics: Psalm 41: 2-5

Beatus qui intelligit super egenum et pauperem: in die mala liberabit eum Dominus.
Dominus conservet eum, et vivificet eum, et beatum faciat eum in terra: et non tradat eum in animam inimicorum eius.
Dominus opem ferat illi super lectum doloris eius: universum stratum eius versasti in infirmitate eius.
Ego dixi: Domine, miserere mei: sana animam meam, quia peccavi tibi.

Date nobis, dabitur vobis regnum cœlorum pauperibus.

Blessed is he that considereth the poor and needy: the Lord shall deliver him in the time of trouble.
The Lord preserve him, and keep him alive, that he may be blessed upon earth: and deliver not thou him into the will of his enemies.
The Lord comfort him, when he lieth sick upon his bed: make thou all his bed in his sickness.
I said: Lord, be merciful unto me: heal my soul, for I have sinned against thee.

Give unto us, and the kingdom of heaven will be granted to you worthless folk.