notAmos Performing Editions
1 Lansdown Place East, Bath
BA1 5ET, UK
+44 (0) 1225 316145
Email

Performing editions of pre‑classical music
with full preview/playback and instant download

Full score (PDF), €0.00 for unlimited copies Download this item
Printable cover page (PDF), €0.00 for unlimited copies Download this item

Please click here to report any problem obtaining a PDF

Click on the illustration to display a larger version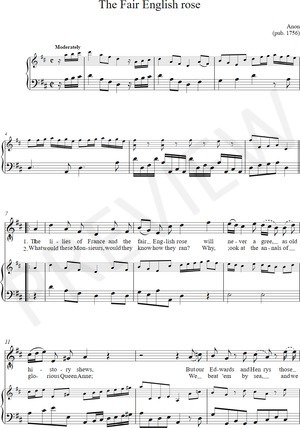 Page 1 of 3
This work, Anon : The lilies of France : scoreid 148308
, as published by
notAmos Performing Editions
, is licensed under a
Creative Commons Attribution-ShareAlike 4.0 International License
. All relevant attributions should state its URL as
https://www.notamos.co.uk/detail.php?scoreid=148308
. Permissions beyond the scope of this licence may be available at
https://www.notamos.co.uk/index.php?sheet=about
.
Published in 1756 under the original title of "The Fair English rose". A patriotic song for performance at the London pleasure gardens (here presented in the extant sparse harmonization) stirring public opinion at the outbreak of the Seven Years War.

Another set of words to the same tune, even less equivocal in its attitude towards the French, was penned by a participant of the assault on Quebec, 1759, under the name "Hot stuff".
Lyrics: Anon

The lilies of France and the fair English rose
Will never agree, as old history shews;
But our Edwards and Henrys those lilies have torn,
And in their rich standards such ensigns have borne,
To shew that Old England, beneath her strong lance,
Has humbl'd the pride and the glory of France.

What would these monsieurs, would they know how they ran?
Why, look at the annals of glorious Queen Anne;
We beat 'em by sea and we beat 'em by land,
When Marlb'rough and Russell enjoy'd the command;
We'll beat 'em again boys, so let 'em advance;
Old England despises the insults of France.

Why, let the Grand Monarch assemble his host
And threaten invasion of England's fair coast;
We bid them defiance, so let them come on,
Have at them: their business will quickly be done;
Monsieur, we will teach you a new English dance
To our Grenadiers' March, that shall frighten all France.

Let's take up our muskets and gird on our swords
And, monsieurs, you'll find us as good as our words.
Beat drums, sound trumpets and huzza for our king,
Then welcome Bellisle with what troops thou can'st bring;
Huzza for Old England, whose strong pointed lance
Shall humble the pride and the glory of France.