notAmos Performing Editions
1 Lansdown Place East, Bath
BA1 5ET, UK
+44 (0) 1225 316145
Email

Performing editions of pre‑classical music
with full preview/playback and instant download

Gioseffo Zarlino

(?1517 - 1590)


Nigra sum sed formosa

(S.A.T.T.B. + reduction)
Full score (PDF), €0.00 for unlimited copies Download this item
Printable cover page (PDF), €0.00 for unlimited copies Download this item

Please click here to report any problem obtaining a PDF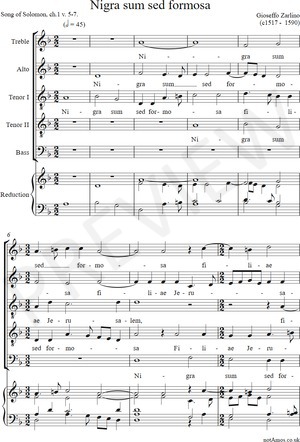 Page 1 of 13
This work, Zarlino : Nigra sum sed formosa : scoreid 100888
, as published by
notAmos Performing Editions
, is licensed under a
Creative Commons Attribution-ShareAlike 4.0 International License
. All relevant attributions should state its URL as
https://www.notamos.co.uk/detail.php?scoreid=100888
. Permissions beyond the scope of this licence may be available at
https://www.notamos.co.uk/index.php?sheet=about
.
From a collection of motets published in Venice, 1549.
Lyrics: Song of Solomon, ch.1 v.4-6

Nigra sum sed formosa filiae Jerusalem, sicut tabernacula Cedar, sicut pelles Salomonis.
Nolite me considerare quod fusca sim, quia decoloravit me sol.
Filii matris meae pugnaverunt contra me, posuerunt me custodem in vineis vineam meam non custodivi.
Indica mihi quem diligit anima mea ubi pascas ubi cubes in meridie ne vagari incipiam per greges sodalium tuorum.

I am black but comely, O daughters of Jerusalem, as the tents of Kedar, as the curtains of Solomon.
Look not upon me, because I am black, because the sun hath looked upon me.
My mother's children were angry with me; they made me the keeper of the vineyards; but mine own vineyard have I not kept.
Tell me, O thou whom my soul loveth, where thou feedest, where thou makest thy flock to rest at noon: for why should I be as one that turneth aside by the flocks of thy companions?