notAmos Performing Editions
1 Lansdown Place East, Bath
BA1 5ET, UK
+44 (0) 1225 316145
Email

Performing editions of pre‑classical music
with full preview/playback and instant download

Full score (PDF), €0.00 for unlimited copies Download this item
Printable cover page (PDF), €0.00 for unlimited copies Download this item

Please click here to report any problem obtaining a PDF

Click on the illustration to display a larger version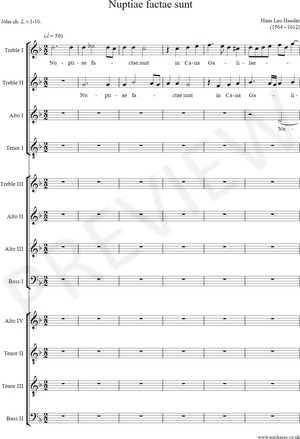 Page 1 of 24
This work, Hassler : Nuptiae factae sunt : scoreid 101239
, as published by
notAmos Performing Editions
, is licensed under a
Creative Commons Attribution-ShareAlike 4.0 International License
. All relevant attributions should state its URL as
https://www.notamos.co.uk/detail.php?scoreid=101239
. Permissions beyond the scope of this licence may be available at
https://www.notamos.co.uk/index.php?sheet=about
.
From Cantiones Sacræ de festis praecipuis totius anni.... Augsburg, 1591.
Lyrics: John ch.2, v.1-10

Nuptiae factae sunt in Cana Galilaeae, et erat Mater Jesu ibi.
et ubi defecisset vium, dixit Mater Jesu ad eum:
vinum non habent, dicit ei Jesus:
Quid mihi tecum est, mulier? Nondum venit hora mea,
dicit Mater eius ministris: Quodcumque dixerit vobis facite.
Erant autem ibi lapideae hydriae sex positae secundum purificationem Judaeorum capientes singulae metretas binas aut ternas,
dicit is Jesus: Implete hydrias aqua, et impleverunt eas usque ad summum,
et dicit eis: Infundite nunc et ferte architriclino, et tulerunt,
Postquam autem gustasset architriclinus aquam in vinum versam neque sciret unde esser, sed ministri sciebant sciebant qui hauserant aquam, vocant sponsum,
et dicit ei: Omnis homo primum bonum vinum ponit, et cum inebriati fuerint, tunc id quod deterius est. Tu servasti bonum vinum usque ad hoc tempus.

And the third day there was a marriage in Cana of Galilee; and the mother of Jesus was there:
And both Jesus was called, and his disciples, to the marriage.
And when they wanted wine, the mother of Jesus saith unto him, They have no wine.
Jesus saith unto her, Woman, what have I to do with thee? mine hour is not yet come. His mother saith unto the servants, Whatsoever he saith unto you, do it
And there were set there six waterpots of stone, after the manner of the purifying of the Jews, containing two or three firkins apiece.
Jesus saith unto them, Fill the waterpots with water. And they filled them up to the brim.
And he saith unto them, Draw out now, and bear unto the governor of the feast. And they bare it
When the ruler of the feast had tasted the water that was made wine, and knew not whence it was: (but the servants which drew the water knew;) the governor of the feast called the bridegroom,
And saith unto him, Every man at the beginning doth set forth good wine; and when men have well drunk, then that which is worse: but thou hast kept the good wine until now.