notAmos Performing Editions
1 Lansdown Place East, Bath
BA1 5ET, UK
+44 (0) 1225 316145
Email

Performing editions of pre‑classical music
with full preview/playback and instant download

Full score (PDF), €0.00 for unlimited copies Download this item
Printable cover page (PDF), €0.00 for unlimited copies Download this item

Please click here to report any problem obtaining a PDF

Click on the illustration to display a larger version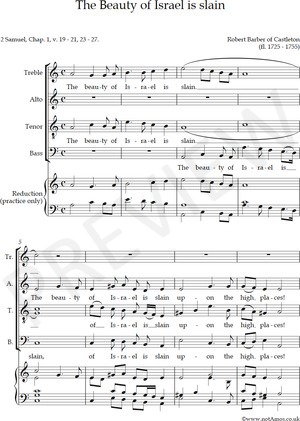 Page 1 of 12
This work, Barber : The beauty of Israel is slain : scoreid 104193
, as published by
notAmos Performing Editions
, is licensed under a
Creative Commons Attribution-ShareAlike 4.0 International License
. All relevant attributions should state its URL as
https://www.notamos.co.uk/detail.php?scoreid=104193
. Permissions beyond the scope of this licence may be available at
https://www.notamos.co.uk/index.php?sheet=about
.
From "David's Harp Well Tuned", 1753. Printed for retailers in Fleet Street, Nottingham, Mansfield and Derby. About Robert Barber nothing is known except from his three editions of his psalmody (1727 - 1753). This is an example of his more ambitious (unaccompanied) anthem style. 2 Samuel, Ch. 1 was specified in the Book of Common Prayer as a proper lesson at morning prayer for 30th January, the anniversary of the execution (1649) of Charles, King and Martyr. Introduced in 1662 as part of the post-restauration settlement, the liturgies for 30th January, 29th May (Restauration Day) and 5th November (Guy Fawkes' Day) were included in the BCP until 1859.
Lyrics: 2 Samuel, Ch. 1, v.19-21,23-27

The beauty of Israel is slain upon the high places: how are the mighty fall'n!
Tell it not in Gath, publish it not in the streets of Askelon: lest the daughters of the Philistines rejoice, lest the daughters of the uncircumcised should triumph.
Ye mountains of Gilboa, let there be no dew, neither rain upon you: for there the shield of the mighty is vilely cast away.
Saul and Jonathan was lovely and pleasant in their lives: and in their deaths they were not divided: they were swifter than eagles, they were stronger than lions.
Ye daughters of Israel, weep over Saul, who clothed you in scarlet and other delights.
How are the mighty fall'n in the midst of the battle!
O Jonathan! thou wast slain in the high places.
I am distressed for thee, O, my brother Jonathan: very pleasant hast thou been unto me: thy love to me was wonderful, passing the love of woman.
How are the mighty fall'n and the weapons of war vanquished! How are the mighty fall'n!