notAmos Performing Editions
1 Lansdown Place East, Bath
BA1 5ET, UK
+44 (0) 1225 316145
Email

Performing editions of pre‑classical music
with full preview/playback and instant download

Michael Praetorius

(?1571 - 1621)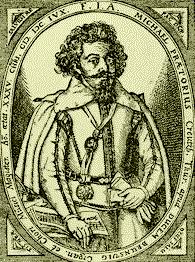 Dum surgit tumulo patris

(S.S.S.A.A.A.T.T.T.B.B.B.)
Full score (PDF), €0.00 for unlimited copies Download this item
Printable cover page (PDF), €0.00 for unlimited copies Download this item

Please click here to report any problem obtaining a PDF
Page 1 of 35
This work, Praetorius : Dum surgit tumulo patris : scoreid 114934
, as published by
notAmos Performing Editions
, is licensed under a
Creative Commons Attribution-ShareAlike 4.0 International License
. All relevant attributions should state its URL as
https://www.notamos.co.uk/detail.php?scoreid=114934
. Permissions beyond the scope of this licence may be available at
https://www.notamos.co.uk/index.php?sheet=about
.
Easter (Resurrection) motet from Musarum Sioniarum, 1607.
Lyrics: Anon

Dum surgit tumulo patris proles ætherei,
tres hilares canunt hoc illi melos Angeli,
applaudente sacro coelituum choro gesti nunc age gaudio,
gens humana tuæ reddita patriæ,
dum princeps tuus emicat, devictis Erebi clarior incolis.
Et tu flammivomæ Stygis rector terribilis moestitia infreme,
dum collum Dominus tuum calcat Tartareo fortior agmine.
O mors vipereo minas rictu terrificas jugiter evomens,
fractis missilibus tuis, exarmata animos abjicito feros.
Coelorum euge penatibus.
Acclamemus io plaudite claris vocibus & sonis,
nunc mors nunc Erebus nunc periit Sathan.
O lux aurea, quanta das humano generi gaudia,
dum fores coelorum referas piis.
O lux candida, quam magna adimis stygis Rectori spolia,
Igneo demersas animas dum trahis ex lacu.
O lux gratior hæc erit, qua coleum repetet flammiferum
potens victor mortis et inferum,
omnes hanc hilares coelituum chori exorate, pia prece.
Exoptate modis dulce sonantibus.
Faxis pneuma sacrum, suo ne dux hic misero sit procul a grege,
Faxis pneuma sacrum,suo grex ut pro Domino non renuat mori.
Styx comburat apostatas: hic grex vivat io pastor et illius.
Omnis vox iteret preces:hic grex vincat io pastor et illius,
Iovam laudet io polus audet io mare et laudent homines
Omnis dicat Amen.
Chorus coelo fortis eat clangor. Amen Amen.

While the Son of the Heavenly Father rises from the tomb,
a joyful trio sing this song of the angels to him,
praising him with a holy chorus of the heavenly choir.
Now give thanks, Mankind, for your heritage redeemed
as your prince sheds his blood, confounding those that dwell in the pit of Hell.
And you, ruler of the fearsome, flame-vomiting pit, moan in sorrow,
while the mightier Lord treads down your neck and on the hosts of Hell.
Oh ever-threatening death, of snakeish form, you are now disarmed,
your stings are drawn; now the malignant beings are cast out.
Behold the domains of heaven.
Let us cry 'Io', and sing praise in loud voice and song,
now that death, Hell and Satan have perished.
O golden light, what joy you give to the human race
while you open the gates of Heaven to the righteous.
O pure light, what great spoils you took from the ruler of Hell
when you dragged immersed souls from the flaming pit.
O that light, which will be more welcome when it reclaims the flame-bearing sky,
mighty victor over death and Hell,
All ye joyful choirs of heaven, sing out your prayers
in righteous asking, make your entreaties in sweet sound:
O Holy Spirit, let not the shepherd be far from his flock in their misery,
O Holy Spirit, let the flock not be reluctant to die for their Lord.
Let Hell consume apostates in flames: let the shepherd and those who are his rejoice.
Let every voice repeat prayers: let the shepherd and those who are his rejoice.
Let the ends of the earth praise God: let the sea praise Him and let mankind praise Him:
Let everything say Amen.
Let a great clamour go up to Heaven. Amen, Amen.