notAmos Performing Editions
1 Lansdown Place East, Bath
BA1 5ET, UK
+44 (0) 1225 316145
Email

Performing editions of pre‑classical music
with full preview/playback and instant download

Full score (PDF), €0.00 for unlimited copies Download this item
Printable cover page (PDF), €0.00 for unlimited copies Download this item

Please click here to report any problem obtaining a PDF

Click on the illustration to display a larger version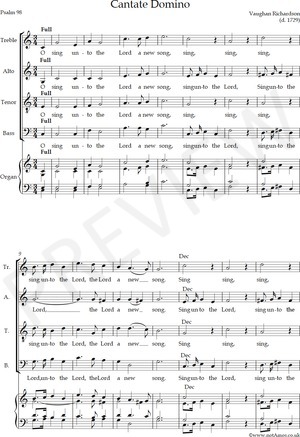 Page 1 of 17
This work, Richardson : Cantate Domino (Psalm 98) : scoreid 114954
, as published by
notAmos Performing Editions
, is licensed under a
Creative Commons Attribution-ShareAlike 4.0 International License
. All relevant attributions should state its URL as
https://www.notamos.co.uk/detail.php?scoreid=114954
. Permissions beyond the scope of this licence may be available at
https://www.notamos.co.uk/index.php?sheet=about
.
From the Tudway collection. "Composed upon the peace, 1713" i.e. upon the Treaty of Utrecht, which marked the end of the War of the Spanish Succession.
Lyrics: Psalm 98

O sing unto the Lord a new song: for he hath done marvellous things.
With his own right hand, and with his holy arm: hath he gotten himself the victory.
The Lord declared his salvation: his righteousness hath he openly shewed in the sight of the heathen.
He hath remembered his mercy and truth toward the house of Israel: and all the ends of the world have seen the salvation of our God.
Shew yourselves joyful unto the Lord, all ye lands: sing, rejoice, and give thanks.
Praise the Lord upon the harp: sing to the harp with a psalm of thanksgiving.
With trumpets also and shawms: O shew yourselves joyful before the Lord the King.
Let the sea make a noise, and all that therein is: the round world, and they that dwell therein.
Let the floods clap their hands, and let the hills be joyful together before the Lord: for he is come to judge the earth.
With righteousness shall he judge the world: and the people with equity.