notAmos Performing Editions
1 Lansdown Place East, Bath
BA1 5ET, UK
+44 (0) 1225 316145
Email

Performing editions of pre‑classical music
with full preview/playback and instant download
Henry Harington

(1727 - 1816)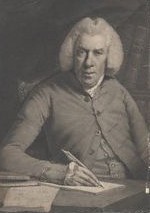 Ianthe

(T.T.B. + reduction)
Full score (PDF), €1.00 for a single copy Buy this item
Choir offer (PDF), €5.00 for 9 copies Buy this item
Printable cover page (PDF), €0.00 for unlimited copies Download this item

Please click here to report any problem obtaining a PDF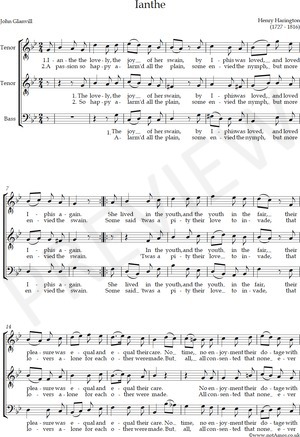 Page 1 of 4
From "Songs, duets and other compositions by Doctor Harington of Bath never before published. Studio fallente laborem. London." 1800. This is Harington's arrangement of a (by then) hoary minor classic. John Barret wrote the tune to a lyric by John Glanvill, c.1705. It appeared in "Pills to purge melancholy", Playford's "Dancing master" and "The Beggar's Opera" ("When he holds up his hand").
Lyrics: John Glanville

Ianthe the lovely, the joy of her swain,
By Iphis was loved, and loved Iphis again:
She lived in the youth, and the youth in the fair,
Their pleasure was equal, and equal their care.
No time, no enjoyment their dotage withdrew,
But the longer they lived still the fonder they grew.

A passion so happy alarmed all the plain,
Some envied the nymph, but more envied the swain;
Some said 'twas a pity their love to invade,
That lovers alone for each other were made;
But all, all consented that none ever knew
Yet a fair one so kind, or a shepherd so true.