notAmos Performing Editions
1 Lansdown Place East, Bath
BA1 5ET, UK
+44 (0) 1225 316145
Email

Performing editions of pre‑classical music
with full preview/playback and instant download
Benjamin Milgrove

(1731 - 1810)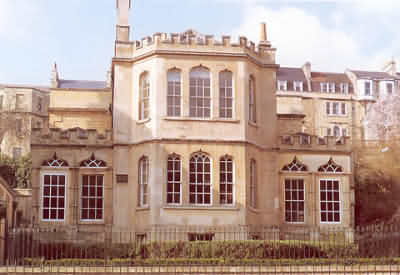 Glory to God on high

(S.A.T.B.Kbd.)
Full score (PDF), €0.00 for unlimited copies Download this item
Printable cover page (PDF), €0.00 for unlimited copies Download this item

Please click here to report any problem obtaining a PDF
Page 1 of 3
Milgrove was Precentor of the Countess of Huntingdon's Chapel in Bath (see illustration). This setting comes from "Twelve hymns and a favourite lyric poem written by Doctor Watts; set to music for four, and five voices, with organ accompaniments.... " Printed for the author, and sold at his house in Bond Street, Bath, 1781. The general congregation (sometimes divided into men and women) should sing the Air, accompanying harmonies to be taken by the choir.
Lyrics: James Allen

Glory to God on High!
Let heav'n and earth reply.
Praise ye his name.
Angels his love adore,
Who all our sorrows bore,
And saints cry evermore:
Worthy the LAMB!

All they around the throne
Cheerfully join in one,
Praising his name:
We who have felt his blood
Sealing our peace with God,
Sound his dear fame abroad:
Worthy the LAMB!

Join all the ransom'd race
Our Lord and God to bless:
Praise ye his name!
In him we will rejoice,
Making a cheerful noise;
And shout with heart and voice,
Worthy the LAMB!

Tho' we must change our place,
Yet shall we never cease
Praising his name:
To Him we'll tribute bring;
Hail Him our gracious king;
And without ceasing sing,
Worthy the LAMB!