notAmos Performing Editions
1 Lansdown Place East, Bath
BA1 5ET, UK
+44 (0) 1225 316145
Email

Performing editions of pre‑classical music
with full preview/playback and instant download

John Wall Callcott

(1766 - 1821)



Come gentle Spring

(S.A.T.B. + reduction)
Full score (PDF), €0.00 for unlimited copies Download this item
Printable cover page (PDF), €0.00 for unlimited copies Download this item

Please click here to report any problem obtaining a PDF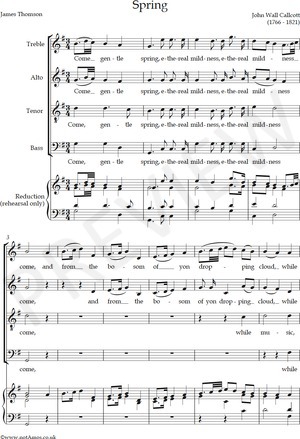 Page 1 of 7
This work, Callcott : Come gentle Spring : scoreid 145296
, as published by
notAmos Performing Editions
, is licensed under a
Creative Commons Attribution-ShareAlike 4.0 International License
. All relevant attributions should state its URL as
https://www.notamos.co.uk/detail.php?scoreid=145296
. Permissions beyond the scope of this licence may be available at
https://www.notamos.co.uk/index.php?sheet=about
.
"A collection of new glees composed by John Sale, etc." London, c.1800.
Lyrics: James Thomson

Come gentle spring! Ethereal mildness come,
And from the bosom of yon dropping cloud,
While music wakes around, veil'd in a shower
Of shadowing roses, on our plains descend.
And see where surly winter passes off
Far to the north, and calls his ruffian blasts:
His blasts obey and quit the howling hill,
The shattered forest and the ravaged vale;
While softer gales succeed; At whose kind touch
The mountains lift their green heads to the sky.
Be gracious heaven, ye fost'ring breezes blow,
Ye soft'ning dews, ye tender showers descend,
And temper all, thou world-reviving sun,
Into the perfect year.