notAmos Performing Editions
1 Lansdown Place East, Bath
BA1 5ET, UK
+44 (0) 1225 316145
Email

Performing editions of pre‑classical music
with full preview/playback and instant download

Thomas Arne

(1710 - 1778)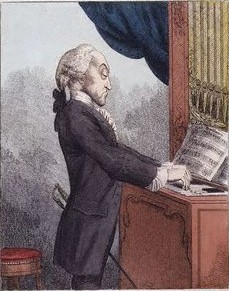 The Street Intrigue

(T.T.B.)
Full score (PDF), €0.00 for unlimited copies Download this item
Printable cover page (PDF), €0.00 for unlimited copies Download this item

Please click here to report any problem obtaining a PDF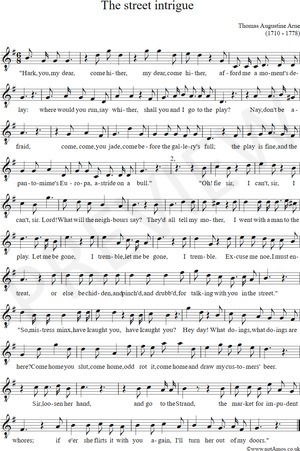 Page 1 of 6
This work, Arne : The Street Intrigue : scoreid 145398
, as published by
notAmos Performing Editions
, is licensed under a
Creative Commons Attribution-ShareAlike 4.0 International License
. All relevant attributions should state its URL as
https://www.notamos.co.uk/detail.php?scoreid=145398
. Permissions beyond the scope of this licence may be available at
https://www.notamos.co.uk/index.php?sheet=about
.
Arne had a not inconsiderable reputation amongst his colleagues for importuning their wives. This catch, then, is a case of art imitating nature. This edition comprises a modern realisation, and a statement of the piece in its original specialised format.
Lyrics: Anon, probably the composer

"Hark you, my dear, come hither,
Afford me a moment's delay;
Where would you run, say whither,
Shall you and I go to the play?
Nay don't be afraid, come, come you jade
Before the gallery's full;
The play is fine and the pantomime's
Europa astride on a bull."

"Oh fie! sir, I can't, sir, Lord!
What will the neighbours say?
They'll all tell my mother
I went with a man to the play.
Let me be gone. I tremble.
Excuse me now I must entreat
Or else be chidden and pinch'd and drubb'd
For talking with you in the street".

"So Mistress Minx,have I caught you?
Hey day, what doings are here"
Come home you slut, Odd rot it,
And draw my customers' beer.
Sir, loosen her hand and go to the Stand,
The market for impudent whores;
If e'er she flirts it with you again,
I'll turn her out of my doors".