notAmos Performing Editions
1 Lansdown Place East, Bath
BA1 5ET, UK
+44 (0) 1225 316145
Email

Performing editions of pre‑classical music
with full preview/playback and instant download

Full score (PDF), €0.00 for unlimited copies Download this item
Printable cover page (PDF), €0.00 for unlimited copies Download this item

Please click here to report any problem obtaining a PDF

Click on the illustration to display a larger version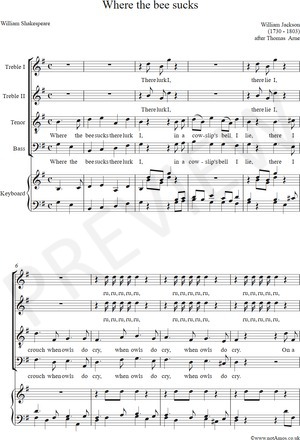 Page 1 of 14
This work, Arne : Where the bee sucks (arr. Jackson) : scoreid 145447
, as published by
notAmos Performing Editions
, is licensed under a
Creative Commons Attribution-ShareAlike 4.0 International License
. All relevant attributions should state its URL as
https://www.notamos.co.uk/detail.php?scoreid=145447
. Permissions beyond the scope of this licence may be available at
https://www.notamos.co.uk/index.php?sheet=about
.
Jackson was a pupil of John Travers, and wrote canzonets and elegies after the model established by Travers, close to, but separate from, the glee tradition. He was organist of Exeter Cathedral and a theorist on music. A friend of Thomas Gainsborough, he corresponded with him on the subject of aesthetics.

This piece is an adaptation and expansion of a song by Thomas Arne, published in Jacksons's vocal quartets, Op. XI.
Lyrics: William Shakespeare

Where the bee sucks there lurk I,
In a cowslip's bell I lie,
There I crouch when owls do cry,
On a bat's back do I fly
After sunset merrily.
Merrily, merrily shall I live now,
Under the blossom that hangs on the bough.

All we fairies that do run
By the triple Hecate's beam,
From the presence of the sun,
Follow darkness as a dream.

Over hill, over dale,
Thorough bush, thorough briar,
Over park, over pale,
Thorough flood, thorough fire.