notAmos Performing Editions
1 Lansdown Place East, Bath
BA1 5ET, UK
+44 (0) 1225 316145
Email

Performing editions of pre‑classical music
with full preview/playback and instant download

Full score (PDF), €0.50 for a single copy Buy this item
Choir offer (PDF), €3.50 for 12 copies Buy this item
Printable cover page (PDF), €0.00 for unlimited copies Download this item

Please click here to report any problem obtaining a PDF

Click on the illustration to display a larger version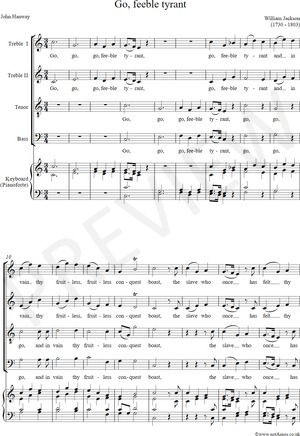 Page 1 of 9
For licensing/copyright information please click
here
Jackson was a pupil of John Travers, and wrote canzonets and elegies after the model established by Travers, close to, but separate from, the glee tradition. He was organist of Exeter Cathedral and a theorist on music. A friend of Thomas Gainsborough, he corresponded with him on the subject of aesthetics.
Lyrics: Anon

Go, feeble tyrant, and in vain
Thy fruitless conquest boast;
The slave who once has felt thy chain
Enjoys his triumph most.

Exert, alas, thy harmless hate,
Thy frowns and cold disdain;
Since double pleasure they create,
To think them spent in vain.

The sailor thus of danger free
From the securer shore
Looks back with joy, and laughs to see
The storms he felt before.