notAmos Performing Editions
1 Lansdown Place East, Bath
BA1 5ET, UK
+44 (0) 1225 316145
Email

Performing editions of pre‑classical music
with full preview/playback and instant download

Benjamin Cooke

(1734 - 1793)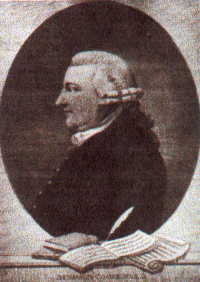 Interred here doth lye a worthy wyght

(S.A.T.B. + reduction)
Full score (PDF), €0.00 for unlimited copies Download this item
Printable cover page (PDF), €0.00 for unlimited copies Download this item

Please click here to report any problem obtaining a PDF
Page 1 of 13
A setting of the epitaph on the tombstone of Thomas Tallis at Greenwich, printed in Warren's seventh collection of canons, catches and glees.
Lyrics: Anon

Interred here doth lye a worthy wyght,
Who for long time in music bore the bell;
His name to show was Thomas Tallis hight,
In honest, virtuous life he did excel;
He served long time in chapel with great praise,
Four sov'reigns' reigns, a thing not often seen;
I mean King Henry, and Prince Edward's days,
Queen Mary, and Elizabeth our queen;
He married was, although children he had none,
And lived in love full three-and-thirty years
With loyal spouse, whose name yclipt was Joan,
Who, here entombed, him company now bears.
As he did live, so also did he dye,
In mild and quiet sort, O happy man!
To God full oft for mercy did he cry,
Wherefore he lives, let Death do what he can.