notAmos Performing Editions
1 Lansdown Place East, Bath
BA1 5ET, UK
+44 (0) 1225 316145
Email

Performing editions of pre‑classical music
with full preview/playback and instant download

Full score (PDF), €0.00 for unlimited copies Download this item
Transposed score (PDF), €0.00 for unlimited copies Download this item
Printable cover page (PDF), €0.00 for unlimited copies Download this item

Please click here to report any problem obtaining a PDF

Click on the illustration to display a larger version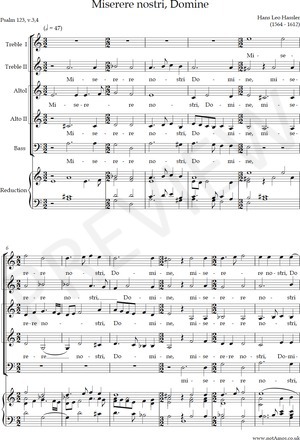 Page 1 of 6
This work, Hassler : Miserere nostri, Domine : scoreid 145532
, as published by
notAmos Performing Editions
, is licensed under a
Creative Commons Attribution-ShareAlike 4.0 International License
. All relevant attributions should state its URL as
https://www.notamos.co.uk/detail.php?scoreid=145532
. Permissions beyond the scope of this licence may be available at
https://www.notamos.co.uk/index.php?sheet=about
.
From Sacri concentus, 1601. Offered at original pitch for S.S.A.A.B. or transposed down a fourth for A.A.T.T.B.
Lyrics: Psalm 123, v.3,4

Miserere nostri, Domine, miserere nostri, quia multum repleti sumus despectione;
quia multum repleta est anima nostra opprobrium abundantibus, et despectio superbis.

Have mercy upon us, O Lord, have mercy upon us: for we are utterly despised.
Our soul is filled with the scornful reproof of the wealthy: and with the despitefulness of the proud.