notAmos Performing Editions
1 Lansdown Place East, Bath
BA1 5ET, UK
+44 (0) 1225 316145
Email

Performing editions of pre‑classical music
with full preview/playback and instant download

Simone Molinaro

(c.1570 - 1636)


Cantate Domino (Psalm 149)

(S.S.A.A.T. (or A.A.T.T.B.) + reduction)
Full score (PDF), €0.00 for unlimited copies Download this item
Transposed score (PDF), €0.00 for unlimited copies Download this item
Printable cover page (PDF), €0.00 for unlimited copies Download this item

Please click here to report any problem obtaining a PDF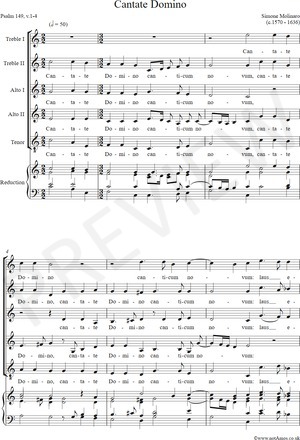 Page 1 of 6
This work, Molinaro : Cantate Domino (Psalm 149) : scoreid 145533
, as published by
notAmos Performing Editions
, is licensed under a
Creative Commons Attribution-ShareAlike 4.0 International License
. All relevant attributions should state its URL as
https://www.notamos.co.uk/detail.php?scoreid=145533
. Permissions beyond the scope of this licence may be available at
https://www.notamos.co.uk/index.php?sheet=about
.
Molinaro was born in Genoa and achieved the rank of maestro di capella at that city's cathedral.
Offered at original pitch for S.S.A.A.T. or transposed down a fourth for A.A.T.T.B.
Lyrics: Psalm 149, v.1-4

Cantate Domino canticum novum laus eius in ecclesia sanctorum.
Laetetur Israel in eo qui fecit eum et filii Sion exultent in rege suo.
Laudent nomen eius in choro in tympano et psalterio psallant ei.
Quia beneplacitum est Domino in populo suo et exaltabit mansuetos in salutem.

O sing unto the Lord a new song: let the congregation of saints praise him.
Let Israel rejoice in him that made him: and let the children of Sion be joyful in their King.
Let them praise his Name in the dance: let them sing praises unto him with tabret and harp.
For the Lord hath pleasure in his people: and helpeth the meek-hearted.