notAmos Performing Editions
1 Lansdown Place East, Bath
BA1 5ET, UK
+44 (0) 1225 316145
Email

Performing editions of pre‑classical music
with full preview/playback and instant download

Benjamin Milgrove

(1731 - 1810)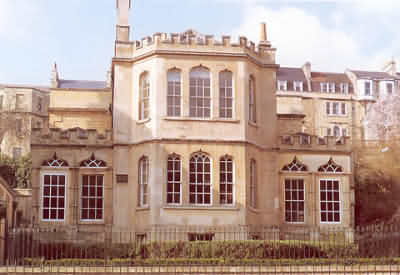 Thou Lamb of God once slain

(S.A.T.B.Kbd.)
Full score (PDF), €0.00 for unlimited copies Download this item
Printable cover page (PDF), €0.00 for unlimited copies Download this item

Please click here to report any problem obtaining a PDF
Page 1 of 2
Milgrove was Precentor of the Countess of Huntingdon's Chapel in Bath (see illustration). This setting comes from his second (of three) collections of "hymns as they are sung at the Right Honourable the Countess of Huntingdon's chappel in Bath". The general congregation (sometimes divided into men and women) should sing the Air, accompanying harmonies to be taken by the choir.
Lyrics: ?Augustus Toplady

Thou Lamb of God once slain,
Think now upon thy pain,
And before thy mercy seat
Let thy merits intercede:
Plead for us thy bloody sweat,
Pour down blessings on our head.

Our souls, with inmost shame,
Address thy holy name,
Here to find Thee inly near
Present to each waiting soul!
Ev'ry drooping sinner cheer
Breathe thy spirit through the whole.

We sinners humbly crave
Thy presence here to have;
In this place to find Thee true
To thy promises of grace;
Still to own the gathered few,
Giving them life and peace.

Each hind'rance, Lord, remove,
By pouring in thy love;
Let those bleeding wounds of thine
Sparkling to our hearts appear;
With peculiar lustre shine,
Gladden ev'ry sinner here.

From thy majestic throne
In mercy, Lord, look down;
View the souls athirst for Thee;
Take them to thy kind embrace.
Each adores, with bended knee,
All thy glories of thy grace.

No more we want below
Than Thee, our God, to know;
Thee to love with keen desire,
Softened through th'atoning blood;
Filled with th'angelic fire,
Filled with all the life of God.