notAmos Performing Editions
1 Lansdown Place East, Bath
BA1 5ET, UK
+44 (0) 1225 316145
Email

Performing editions of pre‑classical music
with full preview/playback and instant download

Benjamin Milgrove

(1731 - 1810)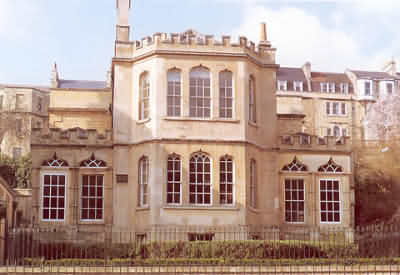 Hearts of stone, relent

(S.A.T.T.B.Kbd.)
Full score (PDF), €0.00 for unlimited copies Download this item
Printable cover page (PDF), €0.00 for unlimited copies Download this item

Please click here to report any problem obtaining a PDF
Page 1 of 2
This work, Milgrove : Hearts of stone, relent : scoreid 145635
, as published by
notAmos Performing Editions
, is licensed under a
Creative Commons Attribution-ShareAlike 4.0 International License
. All relevant attributions should state its URL as
https://www.notamos.co.uk/detail.php?scoreid=145635
. Permissions beyond the scope of this licence may be available at
https://www.notamos.co.uk/index.php?sheet=about
.
Milgrove was Precentor of the Countess of Huntingdon's Chapel in Bath (see illustration). This setting comes from his second (of three) collections of "hymns as they are sung at the Right Honourable the Countess of Huntingdon's chappel in Bath". The general congregation (sometimes divided into men and women) should sing the Air, accompanying harmonies to be taken by the choir.
Lyrics: Charles Wesley

Hearts of stone relent, relent!
Break, by Jesu's cross subdued;
See his body mangled, rent,
Covered with a gore of blood!
Sinful soul, what hast thou done?
Murdered God's eternal Son!

Yes, our sins have done the deed;
Drove the nails that fix Him here,
Crowned with thorns his sacred head,
Pierced Him with a soldier's spear;
Made His soul a sacrifice;
For a sinful world He dies.

Shall I let Him die in vain;
Still to death pursue my God;
Open tear His wounds again;
Trample on His precious blood?
No! with all my sins I'll part;
Jesu's love hath broke my heart.