notAmos Performing Editions
1 Lansdown Place East, Bath
BA1 5ET, UK
+44 (0) 1225 316145
Email

Performing editions of pre‑classical music
with full preview/playback and instant download

Benjamin Milgrove

(1731 - 1810)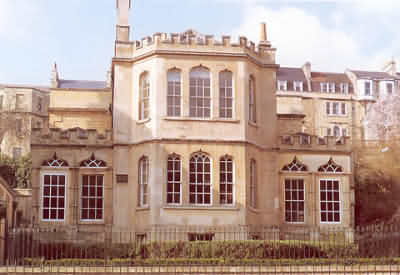 What can a sinner do like me

(S.A.T.B.Kbd.)
Full score (PDF), €0.00 for unlimited copies Download this item
Printable cover page (PDF), €0.00 for unlimited copies Download this item

Please click here to report any problem obtaining a PDF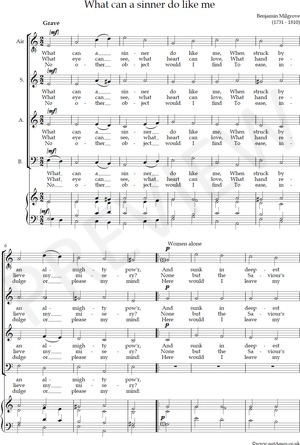 Page 1 of 2
This work, Milgrove : What can a sinner do like me : scoreid 145653
, as published by
notAmos Performing Editions
, is licensed under a
Creative Commons Attribution-ShareAlike 4.0 International License
. All relevant attributions should state its URL as
https://www.notamos.co.uk/detail.php?scoreid=145653
. Permissions beyond the scope of this licence may be available at
https://www.notamos.co.uk/index.php?sheet=about
.
Milgrove was Precentor of the Countess of Huntingdon's Chapel in Bath (see illustration). This setting comes from his first (of three) collections of "hymns as they are sung at the Right Honourable the Countess of Huntingdon's chappel in Bath". The general congregation (sometimes divided into men and women) should sing the Air, accompanying harmonies to be taken by the choir.
Lyrics: Anon

What can a sinner do like me,
When struck by an almighty power,
And sunk in deepest misery?
Nothing but wait at mercy's door.

What eye can see, what heart can love,
What hand relieve my misery?
None but the Saviour's from above,
Who for my sins did bleed and die.

No other object would I find
To ease, indulge, or please my mind:
Here would I leave my fruitless strife,
And prove hid death the Christian's life.

Surely in mercy He'll pass by,
And view a wretched slave of sin:
Pity will move Him to come nigh,
And wash a filthy creature clean.

In mercy, Lord, thy creature see,
And spread thy skirt my shame to hide:
O speak the word, and I shall be
Clothed with thy robe, and justified.

Then shall my happy soul enjoy
A lasting peace in Thee, my God:
Thee my whole business and employ
Shall be to speak of Jesu's blood.