notAmos Performing Editions
1 Lansdown Place East, Bath
BA1 5ET, UK
+44 (0) 1225 316145
Email

Performing editions of pre‑classical music
with full preview/playback and instant download
Thomas Arne

(1710 - 1778)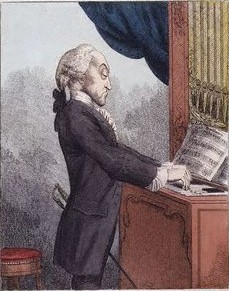 Let not rage, thy bosom firing

(A.T.T.B. + reduction)
Full score (PDF), €0.30 for a single copy Buy this item
Choir offer (PDF), €2.00 for 12 copies Buy this item
Printable cover page (PDF), €0.00 for unlimited copies Download this item

Please click here to report any problem obtaining a PDF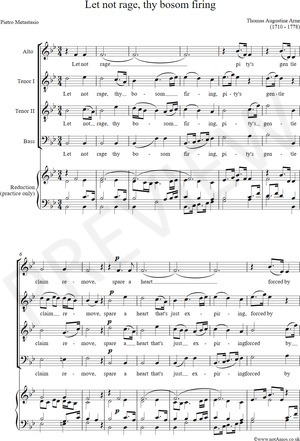 Page 1 of 8
An air from his opera Artaxerxes, redrafted by Arne as a four part glee for the Earl of Eglinton, a founder member of the Catch Club.
Lyrics: Pietro Metastasio

Let not rage, thy bosom firing,
Pity's gentle claim remove;
Spare a heart that's just expiring,
Forced by duty, racked by love.

Each ungentle thought suspending,
Judge of mine by thy soft breast;
Nor with rancour never-ending,
Heap fresh sorrows on th' opprest.

Heav'n, that ev'ry joy has crossed,
Ne'er my wretched state can mend.
I at once have lost
Father, brother, lover, friend.