notAmos Performing Editions
1 Lansdown Place East, Bath
BA1 5ET, UK
+44 (0) 1225 316145
Email

Performing editions of pre‑classical music
with full preview/playback and instant download

Benjamin Milgrove

(1731 - 1810)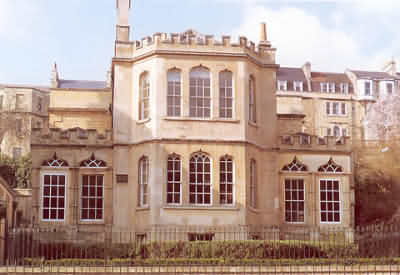 Ah lovely appearance of death!

(A.T.B.Kbd.)
Full score (PDF), €0.00 for unlimited copies Download this item
Printable cover page (PDF), €0.00 for unlimited copies Download this item

Please click here to report any problem obtaining a PDF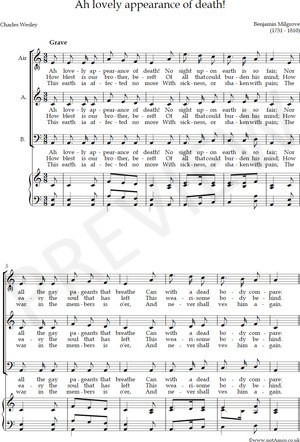 Page 1 of 2
This work, Milgrove : Ah lovely appearance of death! : scoreid 145683
, as published by
notAmos Performing Editions
, is licensed under a
Creative Commons Attribution-ShareAlike 4.0 International License
. All relevant attributions should state its URL as
https://www.notamos.co.uk/detail.php?scoreid=145683
. Permissions beyond the scope of this licence may be available at
https://www.notamos.co.uk/index.php?sheet=about
.
"A Funeral Hymn by the Revd. Mr C. Wesley, set to Music on the Death of the Right Honourable the Earl of Buchan, who died ye 1st of December, 1767. His Life was honourable, his Death blessed; He sought earnestly Peace with God; He found it to his unspeakable Joy, and alone in the Merits of Christ Jesus, Witnessed by the Holy Spirit to his soul. He yet speaketh. Go thou and do likewise."
Milgrove was Precentor of the Countess of Huntingdon's Chapel in Bath (see illustration). This setting comes from his first (of three) collections of "hymns as they are sung at the Right Honourable the Countess of Huntingdon's chappel in Bath". The general congregation (sometimes divided into men and women) should sing the Air, accompanying harmonies to be taken by the choir.
It is not known whether the Earl of Buchan had stronger ties to the Bath outpost of the Countess of Huntingdon's Connexion beyond proximity (he died in Walcot); nor why he should have been the beneficiary of Wesley's most lugubrious yet mawkish sentiments.
Lyrics: Charles Wesley

Ah lovely appearance of death,
No sight upon earth is so fair;
Not all the gay pageants that breathe,
Can with a dead body compare.
With solemn delight I survey
The corpse, when the spirit is fled,
In love with the beautiful Clay,
And longing to lie in its stead.

How blest is our brother, bereft
Of all that could burden his mind!
How easy the soul, that hath left
This wearisome body behind!
Of evil incapable, thou
Whose relics with envy I see;
No longer in misery now,
No longer a sinner like me.

This earth is affected no more,
With sickness, or shaken with pain;
The war in the members is o'er,
And never shall vex him again.
No anger henceforward, or shame,
Shall redden this innocent clay;
Extinct is the animal flame,
And passion is vanished away.

This languishing head is at rest;
Its thinking and aching are o'er.
This quiet immoveable breast
Is heaved by affliction no more.
This heart is no longer the seat
Of trouble and torturing pain;
It ceases to flatter and beat;
It never shall flutter again.

The lids he so seldom could close,
By sorrow forbidden to sleep,
Sealed up in eternal repose,
Have strangely forgotten to weep:
The fountains can yield no supplies.
The hollows from water are free;
The tears are all wiped from these eyes,
And evil they never shall see.

To mourn and to suffer is mine,
While bound in a prison I breathe,
And still for deliverance pine,
And press to the issues of death:
What now with my tears I bedew,
Or might I this moment become,
My spirit created anew,
My flesh be consigned to thy tomb.