notAmos Performing Editions
1 Lansdown Place East, Bath
BA1 5ET, UK
+44 (0) 1225 316145
Email

Performing editions of pre‑classical music
with full preview/playback and instant download

Joseph Corfe (arr.)

(1740 - 1820)


Tweed side

(S.A.T.B. + reduction)
Full score (PDF), €0.00 for unlimited copies Download this item
Printable cover page (PDF), €0.00 for unlimited copies Download this item

Please click here to report any problem obtaining a PDF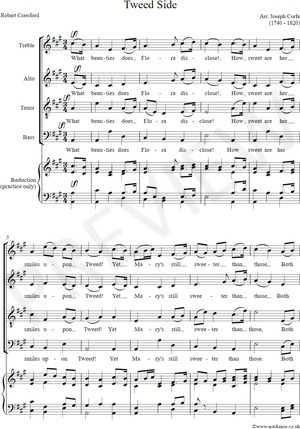 Page 1 of 3
This work, Corfe (arr.) : Tweed side : scoreid 145790
, as published by
notAmos Performing Editions
, is licensed under a
Creative Commons Attribution-ShareAlike 4.0 International License
. All relevant attributions should state its URL as
https://www.notamos.co.uk/detail.php?scoreid=145790
. Permissions beyond the scope of this licence may be available at
https://www.notamos.co.uk/index.php?sheet=about
.
Corfe, organist of Salisbury Cathedral, 1792 - 1804, issued two sets of "Twelve glees.... composed from ancient Scotch melodies" in the early 1790s, to satisfy two contemporary enthusiasms: that for mixed sex social music, and that for all things North-British. The current arrangement comes from the first set.

These glees were selected from a repertoire of well-known Scottish songs that had been anthologised in the previous seventy years. Corfe appears to have been particularly indebted for source material to James Johnson's "Scots Musical Museum", Edinburgh, 1787, which included texts edited and improved by Robert Burns. Verses that are not underlaid were not included by Corfe, and have been imported from external sources (most especially the aforementioned "Scots Musical Museum").
Lyrics: Robert Crawford

What beauties does Flora disclose!
How sweet are her smiles upon Tweed!
Yet Mary's, still sweeter than those,
Both nature and fancy exceed.
No daisy, nor sweet blushing rose,
Not all the gay flow'rs of the field,
Not Tweed, gliding gently through those,
Such beauty and pleasure does yield.

The warblers are heard in the grove,
The linnet, the lark and the thrush,
The blackbird and sweet cooing dove
With music enchant every bush.
Come, let us go forth to the mead;
Let us see how the prinroses spring!
We'll lodge in some village on Tweed,
And love, while the feathered folk sing.

How does my love pass the long day?
Does Mary not tend a few sheep?
Do they never ceaselessly stray
While happily she lies asleep?
Should Tweed's murmurs lull her to rest,
Kind nature indulging my bliss,
To ease the soft pains of my breast
I'd steal an ambrosial kiss.

'Tis she does the virgin excel;
No beauty with her may compare;
Love's graces around her do dwell;
She's fairest where thousands are fair.
Say, charmer, where do thy flocks stray?
O, tell me at noon where they feed?
Shall I seek them on sweet-winding Tay,
Or the pleasanter banks of the Tweed?