notAmos Performing Editions
1 Lansdown Place East, Bath
BA1 5ET, UK
+44 (0) 1225 316145
Email

Performing editions of pre‑classical music
with full preview/playback and instant download

Antonio Cifra

(c.1586 - 1629)


Magi videntes stellam

(B.B.B.)
Full score (PDF), €0.00 for unlimited copies Download this item
Printable cover page (PDF), €0.00 for unlimited copies Download this item

Please click here to report any problem obtaining a PDF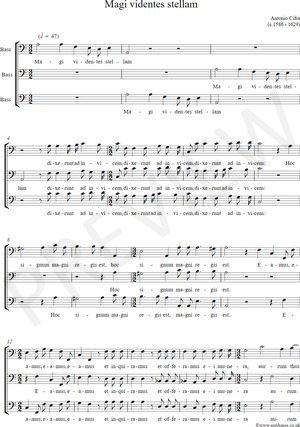 Page 1 of 2
A motet for Epiphany from Promptuarii Musici concentus ecclesiasticos, Strassburg, 1627.
Lyrics: Latin Antiphon

Magi videntes stellam dixerunt ad invicem:
Hoc signum magni regis est.
Eamus et inquiramus et offeramus ei munera
aurum thus et myrrham. Alleluia.

The magi, seeing the star, said, each in turn:
This is the sign of a great king.
Let us go and look for him and offer him gifts,
gold, frankincense and myrrh. Alleluia.