notAmos Performing Editions
1 Lansdown Place East, Bath
BA1 5ET, UK
+44 (0) 1225 316145
Email

Performing editions of pre‑classical music
with full preview/playback and instant download

Hans Leo Hassler

(1564 - 1612)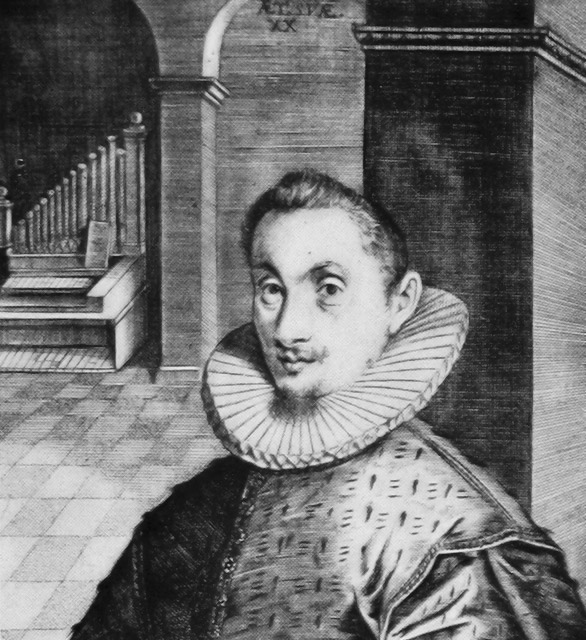 Verba mea auribus percipe Domine

(S.S.A.T.B. (or A.T.T.B.B.) + reduction)
Full score (PDF), €0.00 for unlimited copies Download this item
Transposed score (PDF), €0.00 for unlimited copies Download this item
Printable cover page (PDF), €0.00 for unlimited copies Download this item

Please click here to report any problem obtaining a PDF

Click on the illustration to display a larger version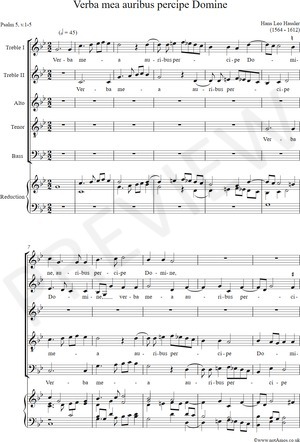 Page 1 of 7
This work, Hassler : Verba mea auribus percipe Domine : scoreid 145990
, as published by
notAmos Performing Editions
, is licensed under a
Creative Commons Attribution-ShareAlike 4.0 International License
. All relevant attributions should state its URL as
https://www.notamos.co.uk/detail.php?scoreid=145990
. Permissions beyond the scope of this licence may be available at
https://www.notamos.co.uk/index.php?sheet=about
.
From Caspar Hassler's collection, symphoniæ sacræ, Nuremberg, 1598. This edition is offered one tone below original pitch (high chiavette), for S.S.A.T.B. or transposed down a further fourth for A.T.T.B.B.
Lyrics: Psalm 5, v.2-6

Verba mea auribus percipe, Domine, intellige clamorem meum.
Intende voci orationis meae, rex meus et Deus meus: quoniam ad te orabo.
Domine mane exaudies vocem meam: mane astabo tibi, et videbo.
Quoniam non Deus volens iniquitatem tu es: neque habitabit juxta te malignus.
Neque permanebunt injusti ante oculos tuos.

Give ear to my words, O Lord, consider my meditation.
Hearken unto the voice of my cry, my King, and my God: for unto thee will I pray.
My voice shalt thou hear in the morning, O Lord; in the morning will I direct my prayer unto thee, and will look up.
For thou art not a God that hath pleasure in wickedness: neither shall evil dwell with thee.
The foolish shall not stand in thy sight: thou hatest all workers of iniquity.