notAmos Performing Editions
1 Lansdown Place East, Bath
BA1 5ET, UK
+44 (0) 1225 316145
Email

Performing editions of pre‑classical music
with full preview/playback and instant download

John Dyne

(? - 1788)


Tell me thou dear departed shade

(A.T.B.)
Full score (PDF), €0.30 for a single copy Buy this item
Choir offer (PDF), €1.50 for 9 copies Buy this item
Printable cover page (PDF), €0.00 for unlimited copies Download this item

Please click here to report any problem obtaining a PDF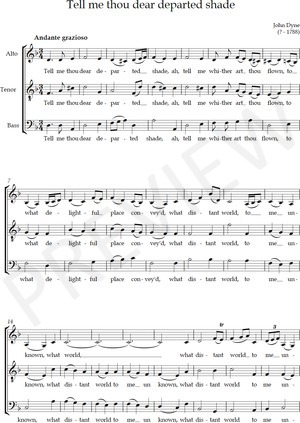 Page 1 of 3
For licensing/copyright information please click
here
Dyne was a fine alto and a Gentleman of the Chapel Royal. He was one of the principal singers at the Handel Commemoration, and died by his own hand in 1788.
Lyrics: Anon, probably the composer

Tell me thou dear departed shade,
Ah, tell me whither art thou flown,
To what delightful place conveyed,
What distant world, to me unknown?

Say, does thy airy flight extend
Far back, as once our fav'rite bow'r?
Dost thou my lonely walks attend,
Or visit me at midnight hour?

Whilst Sol displays the radiant beam
Each thought I dedicate to thee;
And if thou form'st the nightly dream,
How soothing then in sleep to me.