notAmos Performing Editions
1 Lansdown Place East, Bath
BA1 5ET, UK
+44 (0) 1225 316145
Email

Performing editions of pre‑classical music
with full preview/playback and instant download

John Wall Callcott

(1766 - 1821)



Father of heroes

(A.T.T.B.B. + reduction)
Full score (PDF), €0.60 for a single copy Buy this item
Choir offer (PDF), €5.00 for 15 copies Buy this item
Printable cover page (PDF), €0.00 for unlimited copies Download this item

Please click here to report any problem obtaining a PDF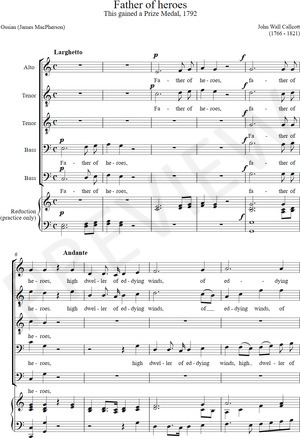 Page 1 of 13
For licensing/copyright information please click
here
This glee gained a Catch Club prize medal in 1792.
Lyrics: Ossian (James MacPherson)

Father of heroes, high dweller of eddying winds,
Where the dark red thunder marks the troubled clouds,
Open thou thy stormy halls; let the bards of old be near.
We sit at the rock, but there is no voice;
No light, but the meteor of fire.
O from the rock on the hill,
From the top of the windy steep,
O speak, ye ghosts of the dead.
O whither are ye gone to rest?
In what cave of the hill shall we find the departed?
No feeble voice is on the gale;
No answer half-drowned in the storm.
Father of heroes, the people bend before thee;
Thou tumblest the battle in the field of the brave.
Thy terrors pour the blast of death,
Thy tempests are before thy face.
But thy dwelling is calm; above the clouds,
The fields of thy rest are pleasant.