notAmos Performing Editions
1 Lansdown Place East, Bath
BA1 5ET, UK
+44 (0) 1225 316145
Email

Performing editions of pre‑classical music
with full preview/playback and instant download

William Knyvett

(1779 - 1856)


Now in her green mantle

(S.A.T.B. + reduction)
Full score (PDF), €0.30 for a single copy Buy this item
Choir offer (PDF), €2.00 for 12 copies Buy this item
Printable cover page (PDF), €0.00 for unlimited copies Download this item

Please click here to report any problem obtaining a PDF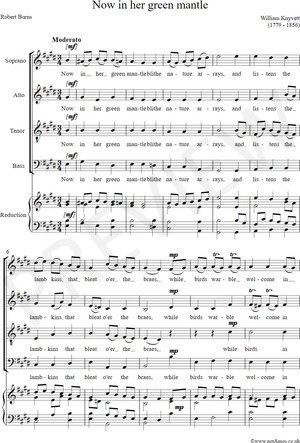 Page 1 of 6
For licensing/copyright information please click
here
A setting of Robert Burns arranged as a concert glee.
Lyrics: Robert Burns

Now in her green mantle blithe nature arrays,
And listens the lambkins that bleat o'er the braes,
While birds warble welcomes in ilka green shaw,
But to me it's the delightless, my Nansie's awa.

The snowdrop and primrose our woodlands adorn,
And violets bathe in the weet o' the morn.
They pain my sad bosom, sae sweetly they blaw:
They mind me o' Nansie, and Nansie's awa.

Thou lav'rock, that springs frae the dews of the lawn
The shepherd to warn o' the grey-breaking dawn,
And thou mellow mavis, that hails the night-fa,
Give over for pity, my Nansie's awa.