notAmos Performing Editions
1 Lansdown Place East, Bath
BA1 5ET, UK
+44 (0) 1225 316145
Email

Performing editions of pre‑classical music
with full preview/playback and instant download

Joseph William Holder

(1764 - 1832)


Rise, my soul, on wings of fire

(S.A.T.B. + reduction)
Full score (PDF), €0.50 for a single copy Buy this item
Choir offer (PDF), €3.50 for 12 copies Buy this item
Printable cover page (PDF), €0.00 for unlimited copies Download this item

Please click here to report any problem obtaining a PDF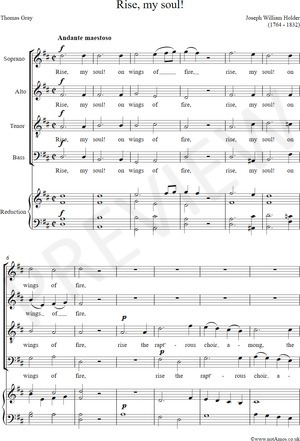 Page 1 of 9
For licensing/copyright information please click
here
From Holder's somewhat grandiloquently titled Op. 14
Lyrics: Thomas Gray

Rise, my soul, on wings of fire,
Rise the rapt'rous choir among.
Hark, 'tis Nature strikes the lyre
And leads the gen'ral song.
Warm let the lyric transport flow,
Warm let the way that bids it glow,
And animates the vernal grove
With health, with harmony and love.