notAmos Performing Editions
1 Lansdown Place East, Bath
BA1 5ET, UK
+44 (0) 1225 316145
Email

Performing editions of pre‑classical music
with full preview/playback and instant download

Melchior Vulpius

(c.1570 - 1615)


Laudate Dominum quoniam bonum est

(S.S.A.T.B.)
Full score (PDF), €0.00 for unlimited copies Download this item
Printable cover page (PDF), €0.00 for unlimited copies Download this item

Please click here to report any problem obtaining a PDF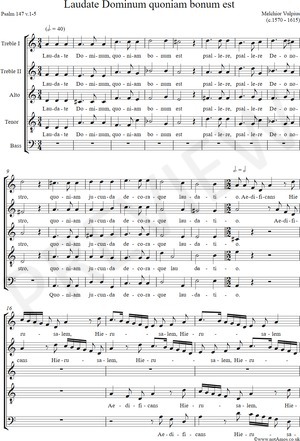 Page 1 of 5
This work, Vulpius : Laudate Dominum quoniam bonum est : scoreid 146258
, as published by
notAmos Performing Editions
, is licensed under a
Creative Commons Attribution-ShareAlike 4.0 International License
. All relevant attributions should state its URL as
https://www.notamos.co.uk/detail.php?scoreid=146258
. Permissions beyond the scope of this licence may be available at
https://www.notamos.co.uk/index.php?sheet=about
.
Edition prepared from Opusculum novum, Erfort, 1610.
Lyrics: Psalm 147 v.1-5

Laudate Dominum quoniam bonum est psallere; Deo nostro quoniam jucunda, decoraque laudatio.
Aedificans Hierusalem Dominus, dispersos Israëlis congregabit:
qui sanat contritos corde, et alligat contritiones eorum;
qui numerat multitudinem stellarum, et omnes suis nominibus vocat.
Magnus Dominus noster, et magna virtus ejus, et sapientiae ejus non est numerus.
Alleluja.

O praise the Lord, for it is a good thing to sing praises unto our God:
yea, a joyful and pleasant thing it is to be thankful.
The Lord doth build up Jerusalem: and gather together the outcasts of Israel.
He healeth those that are broken in heart: and giveth medicine to heal their sickness.
He telleth the number of the stars: and calleth them all by their names.
Great is our Lord, and great is his power: yea, and his wisdom is infinite.
Alleluja.