notAmos Performing Editions
1 Lansdown Place East, Bath
BA1 5ET, UK
+44 (0) 1225 316145
Email

Performing editions of pre‑classical music
with full preview/playback and instant download

John Danby

(c.1757 - 1798)


Fair Flora decks the flow'ry ground

(A.T.B.)
Full score (PDF), €0.20 for a single copy Buy this item
Choir offer (PDF), €1.00 for 9 copies Buy this item
Printable cover page (PDF), €0.00 for unlimited copies Download this item

Please click here to report any problem obtaining a PDF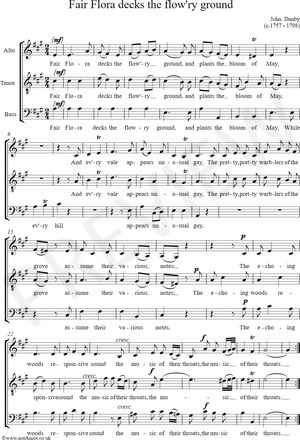 Page 1 of 2
For licensing/copyright information please click
here
From Danby's first book of catches, etc., 1786.
Lyrics: Anon, probably the composer

Fair Flora decks the flow'ry ground,
And plants the bloom of May;
While ev'ry hill and ev'ry vale
Appears unusual gay.

The pretty warblers of the grove
Assume their various notes;
The echoing woods responsive sound
The music of their throats.

Lead on, my Celia, quit the town,
And banish ev'ry care;
O haste, my Celia, haste away,
To breathe the rural air.