notAmos Performing Editions
1 Lansdown Place East, Bath
BA1 5ET, UK
+44 (0) 1225 316145
Email

Performing editions of pre‑classical music
with full preview/playback and instant download
Johann Mayr

(fl.1596)


Resonet in laudibus

(S.S.T. (or T.T.B.))
Full score (PDF), €0.00 for unlimited copies Download this item
Transposed score (PDF), €0.00 for unlimited copies Download this item
Printable cover page (PDF), €0.00 for unlimited copies Download this item

Please click here to report any problem obtaining a PDF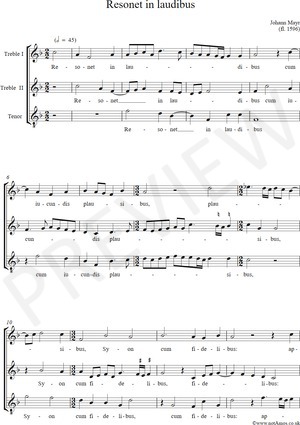 Page 1 of 3
A Christmas setting from Cantiones sacrae trium vocum, Munich, 1596. This edition is offered at the original pitch for S.S.T. or transposed down an octave for T.T.B..
Lyrics: Anon

Resonet in laudibus
cum jucundis plausibus,
Syon cum fidelibus:
apparuit quem genuit Maria.
Sunt impleta quae predixit Gabriel.

Eya, eya. Virgo Deum genuit
quem divina voluit clementia.
Hodie apparuit in Israel:
per Mariam Virginem natus est rex.

Let praises resound
with joyous acclaim
To Sion's faithful:
the child born of Mary has appeared.
What Gabriel foretold has been fulfilled.

Eia. A Virgin bore God,
As the divine mercy willed.
Today He has appeared in Israel,
from the Virgin Mary is born a King.