notAmos Performing Editions
1 Lansdown Place East, Bath
BA1 5ET, UK
+44 (0) 1225 316145
Email

Performing editions of pre‑classical music
with full preview/playback and instant download

Alvise Balbi

(c.1570 - c.1625)


Omnes gentes plaudite

(S.S.A.A.T.T.B.B.)
Full score (PDF), €0.00 for unlimited copies Download this item
Printable cover page (PDF), €0.00 for unlimited copies Download this item

Please click here to report any problem obtaining a PDF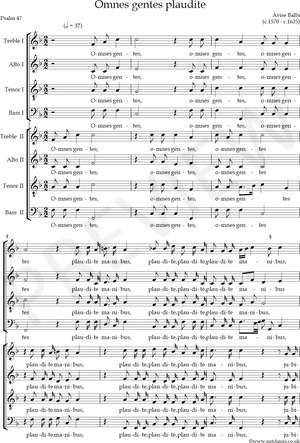 Page 1 of 10
This work, Balbi : Omnes gentes plaudite : scoreid 147180
, as published by
notAmos Performing Editions
, is licensed under a
Creative Commons Attribution-ShareAlike 4.0 International License
. All relevant attributions should state its URL as
https://www.notamos.co.uk/detail.php?scoreid=147180
. Permissions beyond the scope of this licence may be available at
https://www.notamos.co.uk/index.php?sheet=about
.
Edition prepared from Promptuarii musici (vol. 2), 1612.
Lyrics: Psalm 47

Omnes gentes, plaudite manibus; jubilate Deo in voce exsultationis:
quoniam Dominus excelsus, terribilis, rex magnus super omnem terram.
Subjecit populos nobis, et gentes sub pedibus nostris.
Elegit nobis haereditatem suam: speciem Jacob quam dilexit.
Ascendit Deus in jubilo, et Dominus in voce tubae.
Psallite Deo nostro, psallite: psallite regi nostro, psallite: quoniam rex omnis terrae Deus, psallite sapienter.
Regnabit Deus super gentes: Deus sedet super sedem sanctam suam.
Principes populorum congregati sunt cum Deo Abraham,
quoniam dii fortes terrae vehementer elevati sunt.

O clap your hands together, all ye people: O sing unto God with the voice of melody.
For the Lord is high, and to be feared: he is the great King upon all the earth.
He shall subdue the people under us: and the nations under our feet.
He shall choose out an heritage for us: even the worship of Jacob, whom he loved.
God is gone up with a merry noise: and the Lord with the sound of the trumpet.
O sing praises, sing praises unto our God: O sing praises, sing praises unto our King.
For God is the King of all the earth: sing ye praises with understanding.
God reigneth over the heathen: God sitteth upon his holy seat.
The princes of the people are joined unto the people of the God of Abraham:
for God, which is very high exalted, doth defend the earth, as it were with a shield.