notAmos Performing Editions
1 Lansdown Place East, Bath
BA1 5ET, UK
+44 (0) 1225 316145
Email

Performing editions of pre‑classical music
with full preview/playback and instant download

Robert Parsons

(c.1530 - 1572)


Deliver me from mine enemies, O God

(S.S.A.A.T.B. (or A.A.T.T.B.B.))
Full score (PDF), €0.00 for unlimited copies Download this item
Transposed score (PDF), €0.00 for unlimited copies Download this item
Printable cover page (PDF), €0.00 for unlimited copies Download this item

Please click here to report any problem obtaining a PDF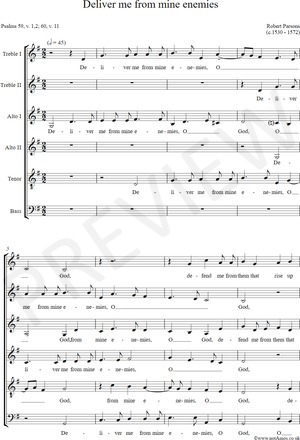 Page 1 of 6
Edition prepared from the Tudway collection and offered at the source's pitch for S.S.A.A.T.B. or down a tone (probably the aboriginal key) for A.A.T.T.B.B.
Lyrics: Psalms 59, v. 1,2; 60, v. 11

Deliver me from mine enemies, O God: defend me from them that rise up against me.
O deliver me from the wicked doers: and save me from the blood-thirsty men.
O be thou our help in trouble: for vain is the help of man.