notAmos Performing Editions
1 Lansdown Place East, Bath
BA1 5ET, UK
+44 (0) 1225 316145
Email

Performing editions of pre‑classical music
with full preview/playback and instant download

Melchior Vulpius

(c.1570 - 1615)


Nunc angelorum gloria

(S.S.A.A.T.T.B.B.)
Full score (PDF), €0.00 for unlimited copies Download this item
Printable cover page (PDF), €0.00 for unlimited copies Download this item

Please click here to report any problem obtaining a PDF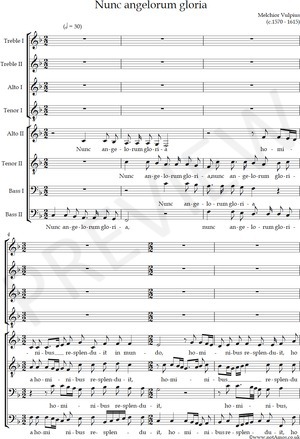 Page 1 of 12
This work, Vulpius : Nunc angelorum gloria : scoreid 147310
, as published by
notAmos Performing Editions
, is licensed under a
Creative Commons Attribution-ShareAlike 4.0 International License
. All relevant attributions should state its URL as
https://www.notamos.co.uk/detail.php?scoreid=147310
. Permissions beyond the scope of this licence may be available at
https://www.notamos.co.uk/index.php?sheet=about
.
Setting of a Christ-tide carol from Opusculum novum, Erfort, 1610.
Lyrics: Anon

Nunc Angelorum gloria hominibus
resplenduit in mundo.
Novi partus gaudia virgo mater produxit,
et sol verus in tenebris illuxit.

Culpae datur hodie remissio;
lætetur homo reus.
Lux de cœlo claruit, pace jam reparata
et genetrix permansit illibata.

Magnum nomen Domini Emanuel
quod est nobiscum Deus;
redemptori Domino redempti jubilemus:
hic est dies et annus jubilæus.

Pastores palam dicite in Bethlehem
quem genuit Maria.
Laus, honor et gloria sit Deo in excelsis,
hominibus pax bonae voluntatis.
Alleluia.

Now, to mankind, the glory of the angels
shines throughout the world.
A virgin mother brings forth a new-born joy,
and the true sun shines in the shadows.

Today sins are forgiven;
let sinful man rejoice.
Light shines from the heavens, in renewed peace,
And that faultless mother endures.

The great name of the Lord is Emanuel,
which is God With Us:
We the redeemed rejoice in the redeeming Lord:
this is the joyful day and year.

Shepherds, speak plainly in Bethlehem
of whom Mary bore.
Glory, praise and honour be to God in the highest'
and peace and goodwill to mankind.
Alleluia.