notAmos Performing Editions
1 Lansdown Place East, Bath
BA1 5ET, UK
+44 (0) 1225 316145
Email

Performing editions of pre‑classical music
with full preview/playback and instant download

Full score (PDF), €0.00 for unlimited copies Download this item
Printable cover page (PDF), €0.00 for unlimited copies Download this item

Please click here to report any problem obtaining a PDF

Click on the illustration to display a larger version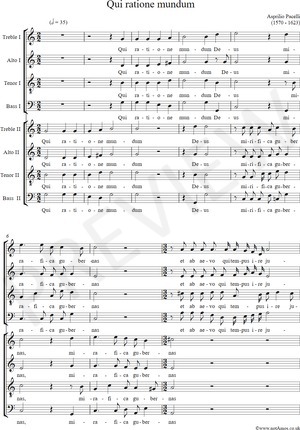 Page 1 of 9
This work, Pacelli : Qui ratione mundum : scoreid 147315
, as published by
notAmos Performing Editions
, is licensed under a
Creative Commons Attribution-ShareAlike 4.0 International License
. All relevant attributions should state its URL as
https://www.notamos.co.uk/detail.php?scoreid=147315
. Permissions beyond the scope of this licence may be available at
https://www.notamos.co.uk/index.php?sheet=about
.
Edition prepared from Hortus musicalis . . . authore R.P. Michaele Herrerrio (book 3), Munich, 1609
Lyrics: Anon

Qui ratione mundum Deus mirifica gubernas
et ab aevo qui tempus ire jubes,
Audi de supremo cælo nostros clamores
et anxios singultus.
Fer aegris et lenimen en vacui te fine ut jacemus.
Ergo fons et origo boni
nos bonitatis respice ocellis,
cui manet aeterna imperii potestas.

Lord God, who governs amazingly the reckoning of the world,
and who, throughout ages, commands time to pass,
Listen from the highest heavens to our wailings
and our anxious sobbings.
Bring solace to the sick that we may rest unburdened.
Therefore, source and origin of good things,
reflect on us with kindness in your eyes,
That the power of authority may remain forever.