notAmos Performing Editions
1 Lansdown Place East, Bath
BA1 5ET, UK
+44 (0) 1225 316145
Email

Performing editions of pre‑classical music
with full preview/playback and instant download

Full score (PDF), €0.00 for unlimited copies Download this item
Printable cover page (PDF), €0.00 for unlimited copies Download this item

Please click here to report any problem obtaining a PDF

Click on the illustration to display a larger version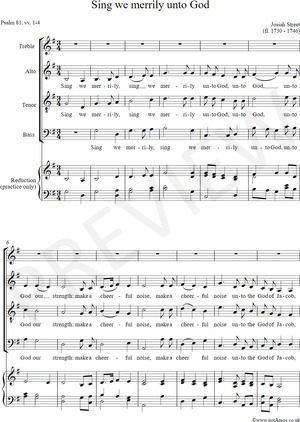 Page 1 of 6
From "A book containing great variety of Anthems", second edition 1746. The book was published without subscribers but the list of booksellers given on the title page indicates Street's audience: in Barnsley, Chesterfield, Halifax, Leeds, Pontefract, Rotherham, Sheffield and Wakefield, or from the publisher in London, or from the author in Skipton (Almonbury in the first edition, 1730).

A reduction is provided for practice purposes, but should be eschewed in performance.
Lyrics: Psalm 81, vv. 1-4

Sing we merrily unto God our strength: make a cheerful noise unto the God of Jacob.
Take the psalm, bring hither the tabret: the merry harp with the lute.
Blow up the trumpet in the new-moon: even in the time appointed, and upon our solemn feast-day.
For this was made a statute in Israel: and a law of the God of Jacob.
Glory be to the Father, and to the Son, and to the Holy Ghost.
As it was in the beginning, is now, and ever shall be. World without end. Amen.