notAmos Performing Editions
1 Lansdown Place East, Bath
BA1 5ET, UK
+44 (0) 1225 316145
Email

Performing editions of pre‑classical music
with full preview/playback and instant download

John Garth

(1721 - 1810)


Stir up, we beseech thee, O Lord

(2S./2T.Org.)
Full score (PDF), €0.00 for unlimited copies Download this item
Printable cover page (PDF), €0.00 for unlimited copies Download this item

Please click here to report any problem obtaining a PDF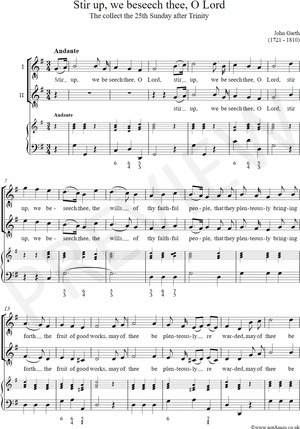 Page 1 of 2
This work, Garth : Stir up, we beseech thee, O Lord : scoreid 147514
, as published by
notAmos Performing Editions
, is licensed under a
Creative Commons Attribution-ShareAlike 4.0 International License
. All relevant attributions should state its URL as
https://www.notamos.co.uk/detail.php?scoreid=147514
. Permissions beyond the scope of this licence may be available at
https://www.notamos.co.uk/index.php?sheet=about
.
The collect for the 25th Sunday after Trinity, from Garth's "Thirty collects", 1794.

Garth was a 'cellist and concert promoter based in Durham (the foreword to Thirty Collects is addressed from Bishop Auckland). His settings of the collects were not intended for liturgical use (the collect of the day was invariably read) but they were intended for "those who wish to have something in the vocal way easy and proper for their Sunday evenings' recreation".

In popular tradition this collect (which should be used on the last Sunday before Advent when not the same as the 25th after Trinity) signals "Stir up Sunday", an exhortation to prepare the year's Christmas sweetmeats, both cake and mincemeat.
Lyrics: Book of Common Prayer, 1662

Stir up, we beseech thee, O Lord, the wills of thy faithful people, that they, plenteously bringing forth the fruit of good works, may of thee be plenteously rewarded, through Jesus Christ, our Lord. Amen.