notAmos Performing Editions
1 Lansdown Place East, Bath
BA1 5ET, UK
+44 (0) 1225 316145
Email

Performing editions of pre‑classical music
with full preview/playback and instant download

John Clarke-Whitfeld

(1770 - 1836)


Low in yon vale

(S.A.T.B. + reduction)
Full score (PDF), €0.30 for a single copy Buy this item
Choir offer (PDF), €2.15 for 12 copies Buy this item
Printable cover page (PDF), €0.00 for unlimited copies Download this item

Please click here to report any problem obtaining a PDF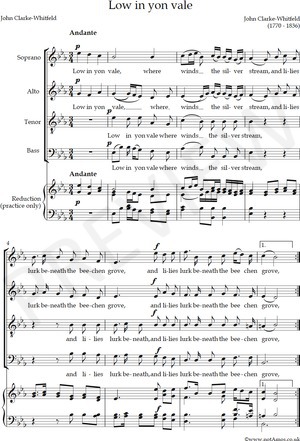 Page 1 of 5
For licensing/copyright information please click
here
From Eight Glees, Op. 4. Published in 1798, when Clarke was Master of the Boys at the Chapel Royal, Dublin.
Lyrics: Robert Burns

Low in yon vale, where winds the silver stream,
And lilies lurk beneath the beechen grove,
I fondly meditate by Luna's beam
And mourn the sorrows of a hopeless love.

The joys of life to me are now no more,
For faithless Delia's to another gone;
Come gentle death, thy aid I now implore
To ease a heart that's doomed to grief alone.