notAmos Performing Editions
1 Lansdown Place East, Bath
BA1 5ET, UK
+44 (0) 1225 316145
Email

Performing editions of pre‑classical music
with full preview/playback and instant download

John Clarke-Whitfeld

(1770 - 1836)


O life, how pleasing

(S.A.T.B. + reduction)
Full score (PDF), €0.30 for a single copy Buy this item
Choir offer (PDF), €2.15 for 12 copies Buy this item
Printable cover page (PDF), €0.00 for unlimited copies Download this item

Please click here to report any problem obtaining a PDF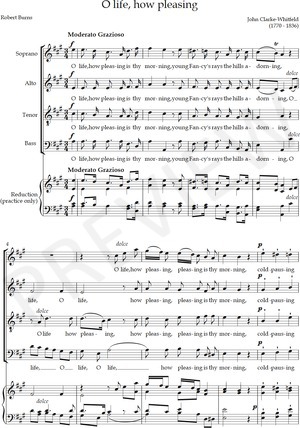 Page 1 of 6
For licensing/copyright information please click
here
From Eight Glees, Op. 4. Published in 1798, when Clarke was Master of the Boys at the Chapel Royal, Dublin.
Lyrics: Robert Burns

O life, how pleasing is thy morning,
Young Fancy's rays the hills adorning;
Cold pausing Caution's lessons scorning.
We frisk away
Like schoolboys at th'expected warning,
To joy and play.

We wander here, we wander there,
We eye the rose upon the brier,
Unmindful that the thorn is near
Among the leaves.
And though the puny wound appear,
Short time it grieves.