notAmos Performing Editions
1 Lansdown Place East, Bath
BA1 5ET, UK
+44 (0) 1225 316145
Email

Performing editions of pre‑classical music
with full preview/playback and instant download

Alvise Balbi

(c.1570 - c.1625)


Percusso Philisthæo

(S.S.A.A.T.T.B.B.)
Full score (PDF), €0.00 for unlimited copies Download this item
Transposed score (PDF), €0.00 for unlimited copies Download this item
Printable cover page (PDF), €0.00 for unlimited copies Download this item

Please click here to report any problem obtaining a PDF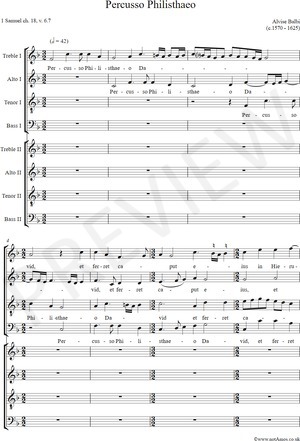 Page 1 of 8
This work, Balbi : Percusso Philisthæo : scoreid 147575
, as published by
notAmos Performing Editions
, is licensed under a
Creative Commons Attribution-ShareAlike 4.0 International License
. All relevant attributions should state its URL as
https://www.notamos.co.uk/detail.php?scoreid=147575
. Permissions beyond the scope of this licence may be available at
https://www.notamos.co.uk/index.php?sheet=about
.
From Ecclesiastici Concentus, Venice, 1606. This edition is offered at original pitch (high chiavette) for S.S.A.A.T.T.B.B. or transposed down a fourth for the same forces.
Lyrics: 1 Samuel ch. 18, v. 6,7

Percusso Philisthæo David, et ferret caput eius in Hierusalem,
egressae sunt mulieres de universis urbibus Israel,
cantantes, chorosque ducentes in occursum Saul regis,
in tympanis lætitiae et in sistris.
Et præcinebant mulieres ludentes atque dicentes:
Saul percussit mille et David decem millia.

When David slaughtered the Philistine, and bore his head to Jerusalem,
the women came out of all cities of Israel
singing and dancing to meet King Saul,
with timbrels, with instruments of joy, and with rebecks.
And the women sang by course in their play, and said:
"Saul hath slain his thousand, and David his ten thousand".